Testimonies from the custodians of our work
Our pieces elevate the sentiment of "giving" to an unprecedented level.
Moreover, the pleasure and satisfaction derived from a Wheathills masterpiece is shared equally by the recipient, the commissioning client and our dedicated craftspeople.
Such powerful emotional impact is achieved through the subtle, symbolic and stunning personalisation of each piece, so that our art becomes a physical manifestation of the feelings and experiences of the recipient.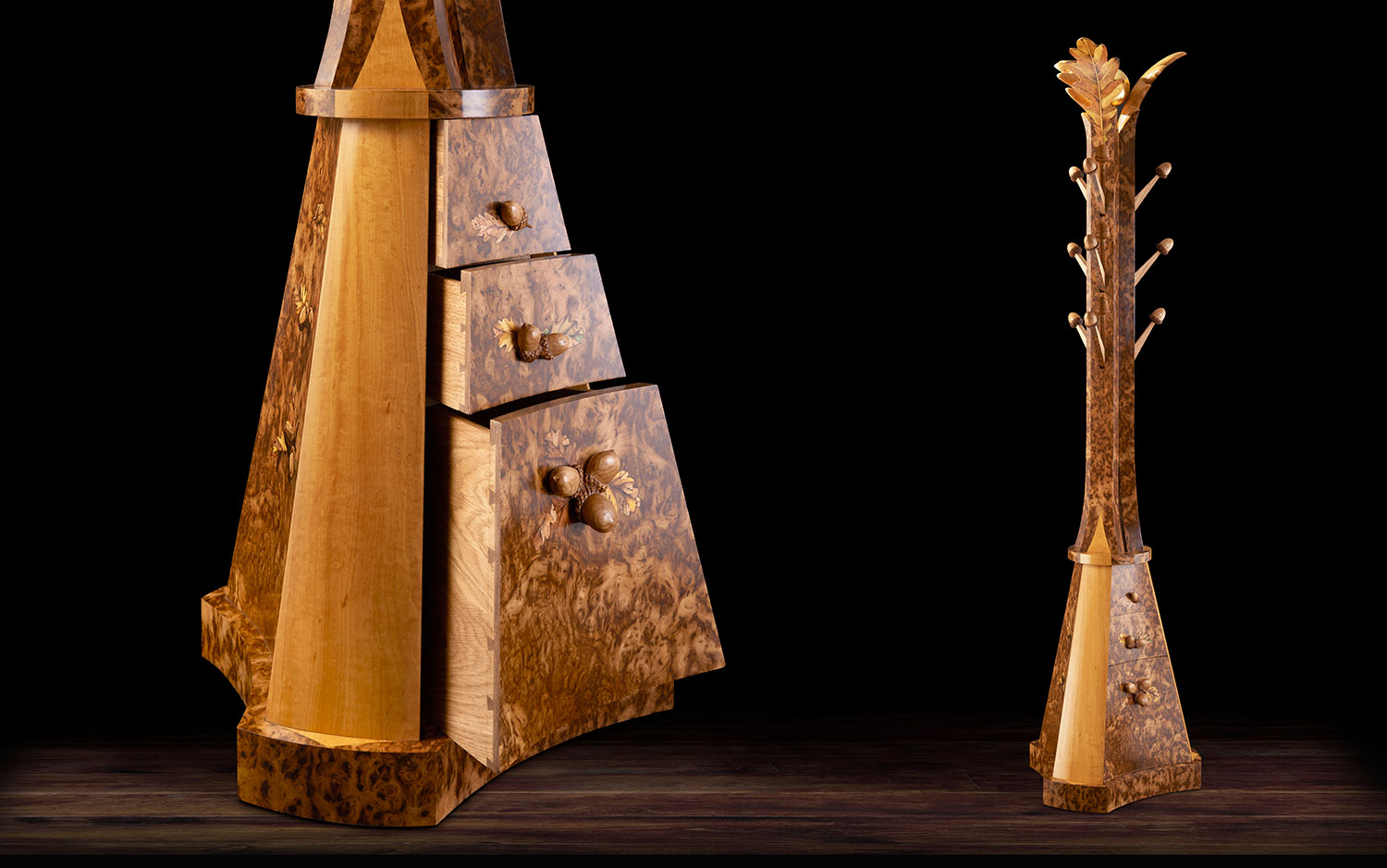 THE RECIPIENTS: What a delight, we are both extremely pleased with the design and execution of our hat stand. The craftsmanship stands out and is a real credit to your team. We are looking forward to our next venture with you. View the project
The Giver: The beauty, artistry and craftsmanship were unlike anything they have seen (and they've seen a lot). View the box
The Recipient: 'I am proud to become its owner, and amazed by what they have achieved through their outstanding skills, creative artistic abilities and endless hard work'.
The Giver: 'I've had a little more time with our piece of art, as that is clearly what it is, and am still amazed at what you have given us. A quite remarkable piece of work'. View the box
The Giver: I know that the box has been a great success and much admired; and you were quite right that the experience of commissioning it would be an enjoyably memorable one too. View the box
The Recipient: '' It is craftsmanship of the highest quality. I doubt it could be surpassed.'' View the box
The Recipient: '' There's no better present.'' View the box
The Recipient: '' Dear Nigel, I am simply delighted with my box. It is beautiful. Would you please thank your staff for the excellent workmanship.'' View the box
The Giver: ''THE MOST MAGIC AND SPECIAL 'MEMORY BOX' which you made for my daughter's 50th birthday was a sensational and sentimental success." View the box
The Giver: ''The Promise Box created for my son's 50th birthday is the most special personal thing and there will certainly be no other gift like it.'' View the box
The Recipient: ''Yesterday was a happy day for us as we had the new altar dedicated by the Bishop of Hertford. As far as we can tell St. Leonard's has waited several hundred years for a new altar ... I probably won't be around for the next one!'' View the altar table
Click here to view our blog.
The Giver: ''It is, without question, the most beautiful, thoughtful and unique gift I have ever been fortunate to give and for that I am sincerely grateful.'' View the box

The Recipient: ''Thank you so much for the Exquisite Memory Box, it is, in every sense of the word 'A work of art.' '' View the box
The Recipient: ''It is truly amazing and we were both lost for words. We've never seen anything like it.'' View the box

The Recipient: ''I have had the pleasure of seeing many beautiful objects in my time but the creativeness of your team is not only very special but obviously, from my personal point of view, is giving me great pleasure.'' View the box here
Click here to see our blog

The Giver: ''When we saw the finished box for the first time, it was breathtaking. You and your craftsmen have perfectly captured the story we had told you and the interpretation is stunning'' View the box

The Giver: ''We are delighted to have the opportunity to see the memory Box which you and your craftsmen have created, it certainly exceeds expectations.'' View the box
The Recipient: ''The detail and craftsmanship is wonderful and it's a great home for my expedition memories.'' View the box

The Recipient: ''The Memory Box is the finest gift I have ever been given. It represents so much of the wonderful things that have happened in my life.'' View the Box
The Recipient: ''Words cannot adequately describe the quality and craftsmanship of this beautiful box. It fills me with delight and admiration.'' View the box

The Recipient: ''I am so proud to show everyone who comes to see me such a precious piece of workmanship and like me they are in awe at such a beautiful box.'' View the box

The Giver: ''I would like to thank you for the help and kindness shown..... They were so surprised and delighted. I am glad 'Ruby the dog' found her way into the inside of the lid.'' View the box